From the 2nd – 6th November, I taught morning and evening Gyrokinesis classes at Les Terres de Gaïa hamlet of Babsie Steger and Takis Candilis, which they made into a haven for relaxation and wellbeing, thus aptly named "the lands of Gaia".
Over the last week, I've already done a brief recap in photos and short videos via my Instagram. However, I thought it would be great to write more about this experience as a whole too.
The next few posts will also be an excellent source of information for those who missed out this year and want to join a Gyrokinesis wellness retreat in the future. I will virtually walk you through each day.
Enjoy!
Kindall xo
---
Day 1 – Wednesday, 2nd November, 2022
It was quite an early start for me: I departed London around 6am and arrived in Toulouse (the nearest airport to the hamlet) at 930am. I met another attendee who also arrived at the airport and were picked up promptly by Takis. We rode along the beautiful green and yellow fields and vineyards (mostly Armagnac) that dotted the country roads along with a nice introduction about the Gers. About an hour or so later we arrived at the hamlet.
As soon as we parked, we were greeted by the gardener who kindly took our bags to our rooms and, of course, Babsie and her sweet dog, Sienna. The sun was shining brightly, so we sat outside to enjoy our welcome refreshments. Afterwards Babsie gave a tour around the grounds and then to our rooms.
We started with the pool and lounge area which was perfectly tucked away on the side of the hamlet surrounded by a lot of greenery. As we continued around the next point was the herbal garden on the side of the yoga studio. Babsie pointed out some her favorites, that I was actually learning about for the first time, while we smelled and tasted the different varieties.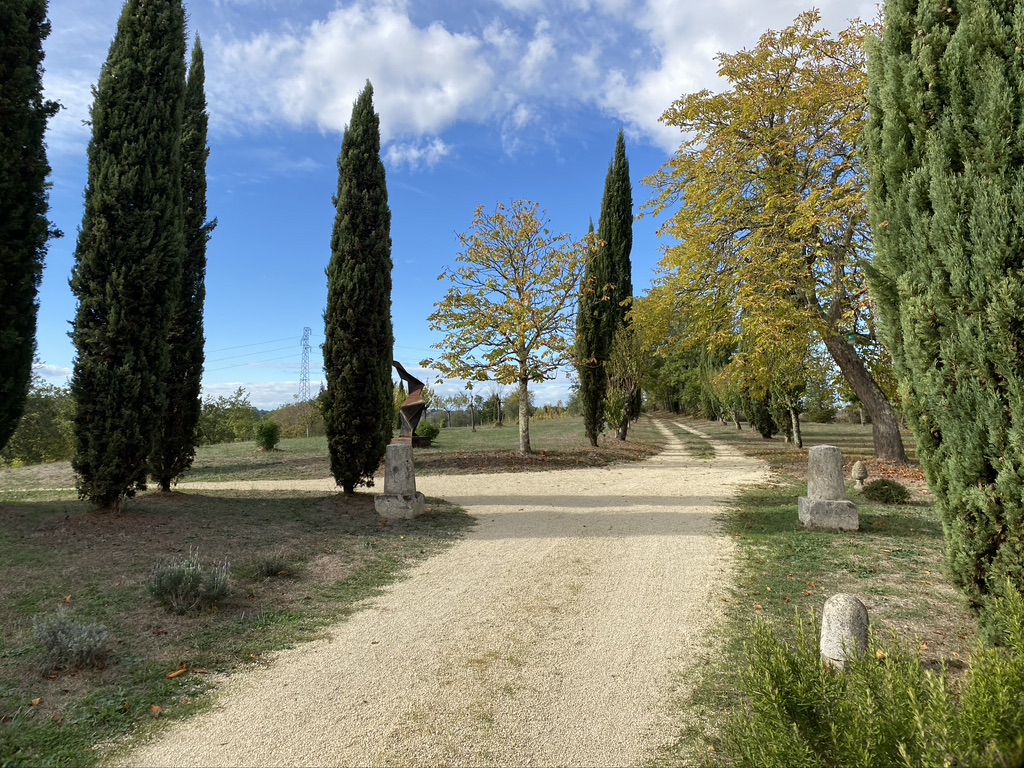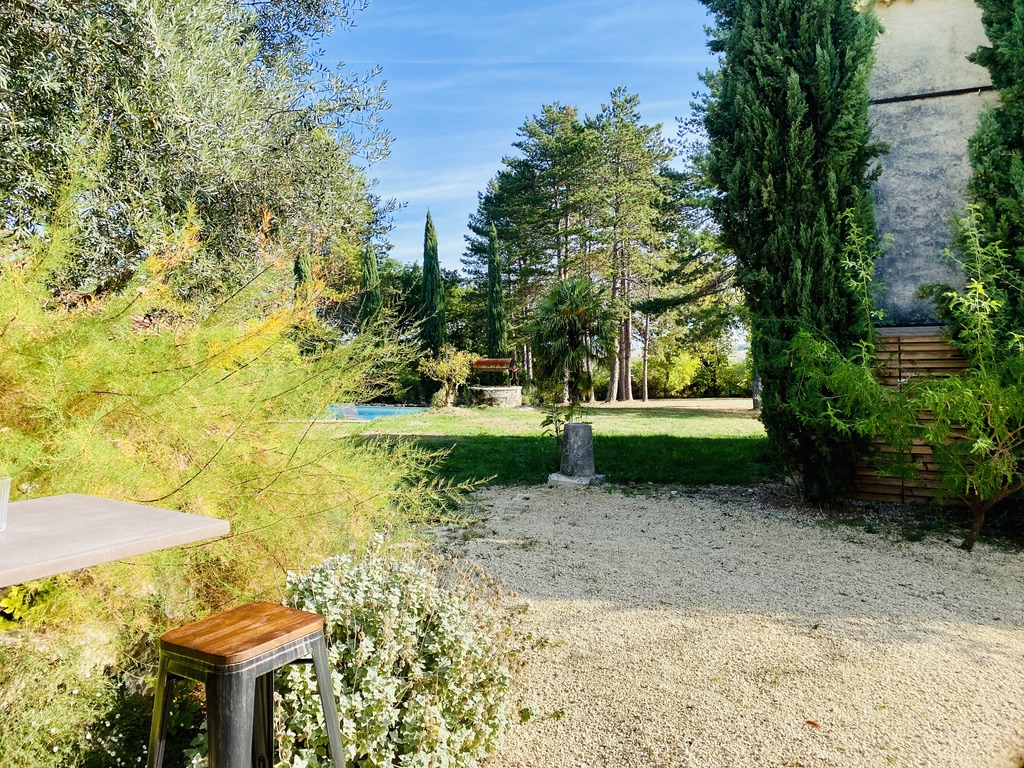 Directly in front of the herbal garden and yoga studio, you have two seating areas, and fantastic view of the Pyreenes. The yoga studio is bright and airy with huge ceilings, great ambience, and everything you need: mats, blocks, balls, etc. During the cooler months its central heating system does the job which is great for classes year round.
We continued to the 'cooking atelier' where breakfast, lunch and dinner are prepared and where Babsie holds her cooking workshops. Adjacent to the atelier is another outdoor seating area, which we were able to take advantage for lunch.
The cooking atelier is large with very high ceilings and a dining table for up to 10 people. Along with the original architecture, Babsie and Takis added their own stylish decor from dried herbs hanging on the walls to statement lighting. This is where we were greeting for pre-class water and tea infusions, coffees, dried fruits, as well as breakfast and dinner.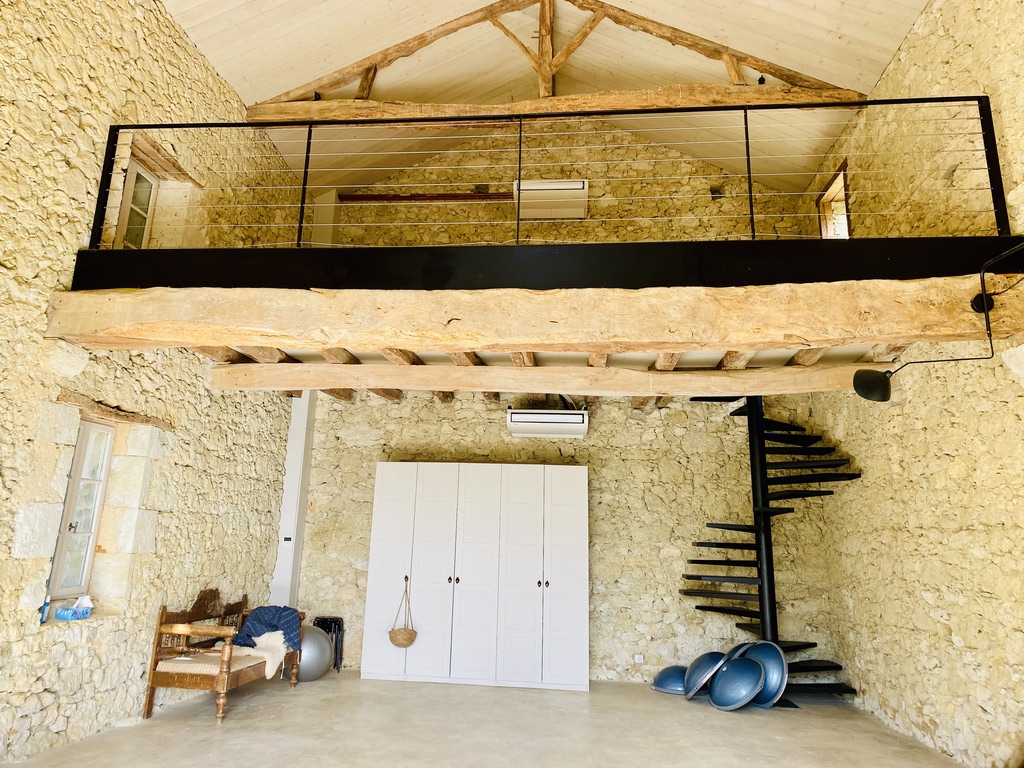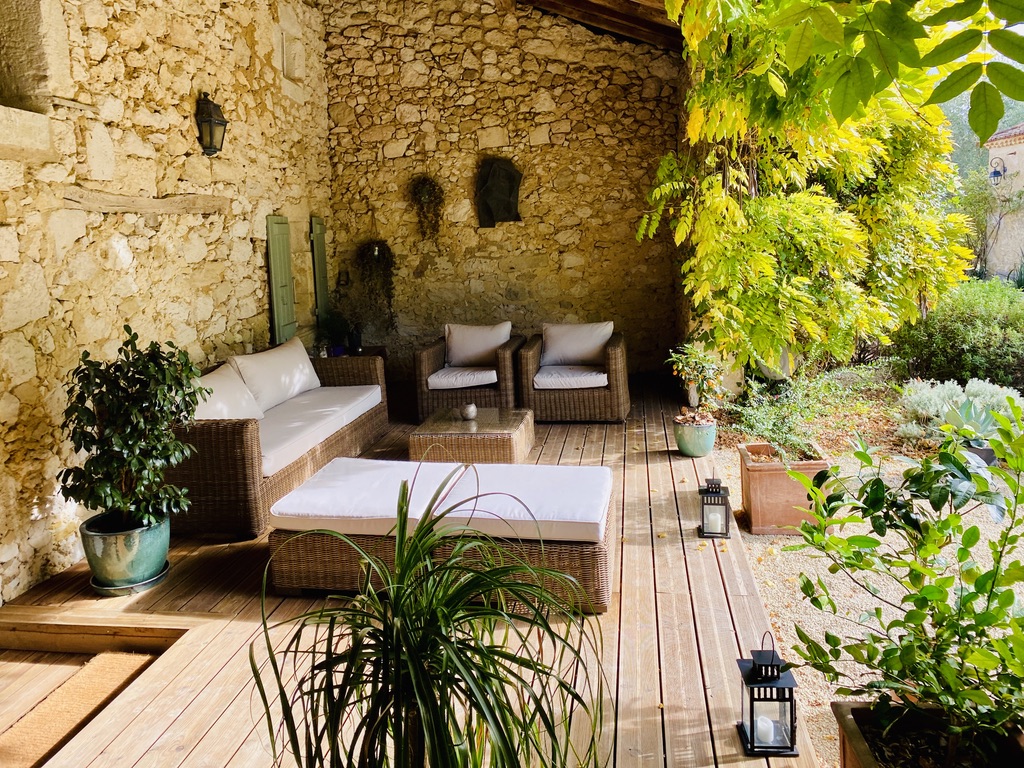 Next on the tour was the spa, sauna, gym and treatment rooms. The downstairs area features a book and DVD library and two gorgeous guest rooms. The spa includes a large sauna, the Iyashi Dôme far infrared device, and the Bol d'air Jacquier oxygenation complete with a shower, towels, and water at your disposal.
The gym included the GYROTONIC® Pulley Tower, spin bikes, rowing machine, headstand bench along with various weights for strength training. The massage treatment room tucked away in its own room with plenty of light and silence.
Last but not least were the rest of the guest rooms. One house included 3 – 4 rooms while the other house was a studio apartment with its own kitchen and living room, where I stayed. Babsie had the wood burning stove on which produced such a lovely smell along with its warmth. The beds had freshly rolled towels and the daily schedule in a woven basket, which could be used around the hamlet for our personal belongings.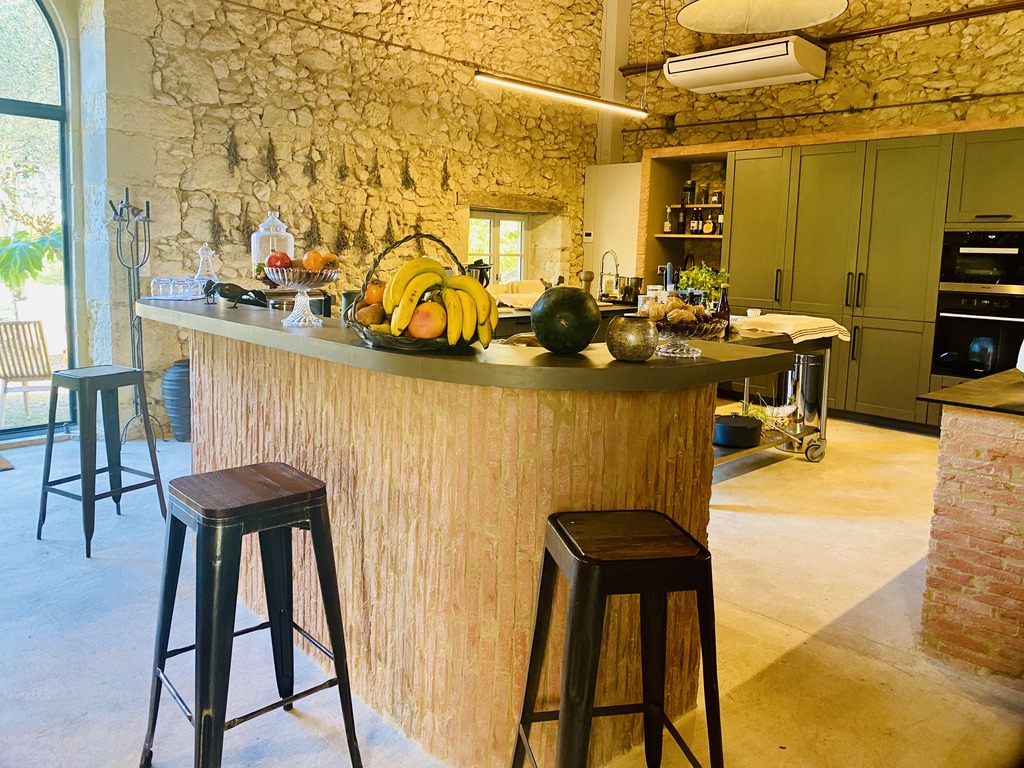 An hour or so later, lunch was ready and was served in the outdoor dining area adjacent to the cooking atelier. Our first lunch included an aperitif – low gluten bread with hummus and pesto – completed with a main course and dessert, all organic and locally sourced as always.
After lunch we took our first outing to visiting a local village and one of its castles in Larresingle. I later realized that this area is part of the trail way for the Camino de Santigo, a pilgrimage mapped out throughout France, Spain, and Portugal.
We then visited some of the local shops where I picked up some Fois Gras to take home. I would recommend checking a bag on the way home to take back the local olive oil too. The last stop was a beautiful antique shop owned by a friend of Babsie's where I would most likely get a few things shipped back to London next time.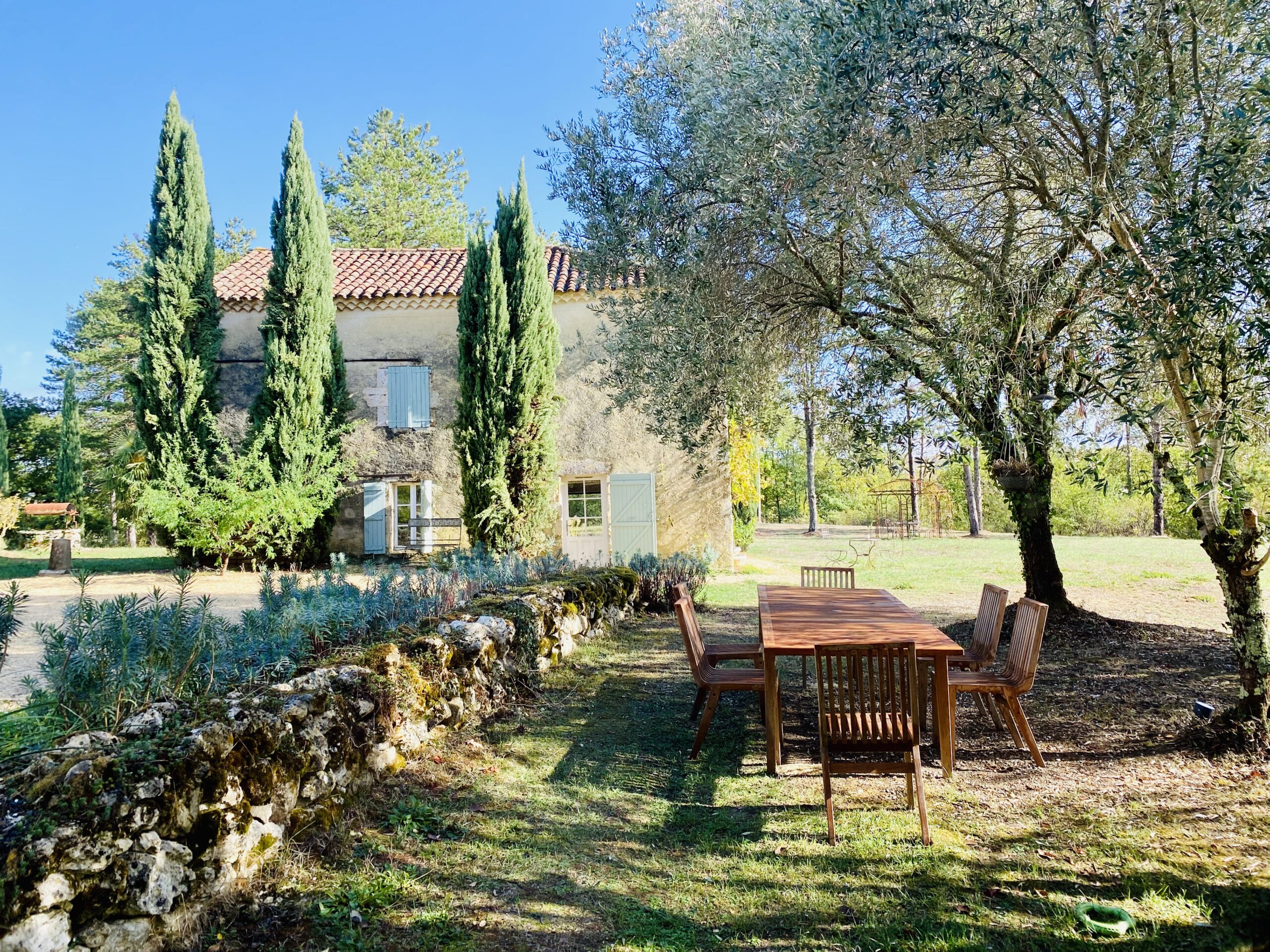 We arrived back to the hamlet, recouped, and got ready for an evening GYROKINESIS® class and dinner. This class focused on restoration since we all had a day of travel. For those new in the class, we went through the basic principles of the method, keeping it simple and slow to allow the body to adjust. After a good hour of learning sequences on the stool, the mat and standing, we floated to the dinner table.
Dinner was a 3 course meal beginning with an aperitif, followed by then a delicious mushroom soup followed by a fruit compote crumble. We retired in the library afterwards for a tea infusion to digest the food, then had early night to prepare for our first full day.
It was a long first day, but being able to fully enjoy the hamlet and its surrounding areas right away was greatly appreciated. Also, the rooms have some of the cosiest beds I ever slept in! Babsie's choice of organic mattresses, sheets and pillows were absolutely optimum for a good night's sleep.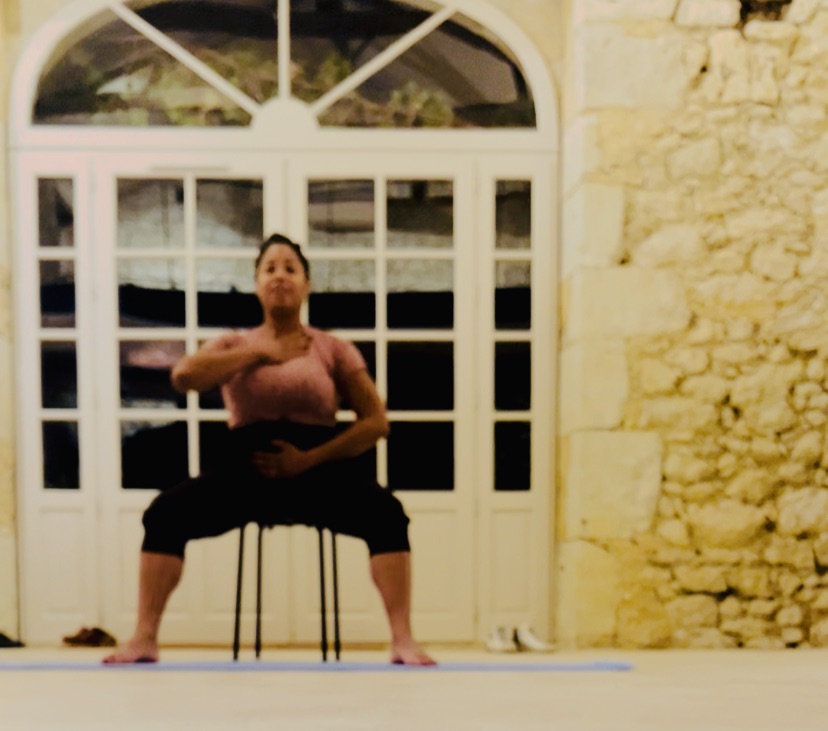 ---
Stay tuned for Day 2 to 5 where I'll share what we did in our morning and evening classes, the activities, sauna and massage experiences, and more delicious meals.