Hi movers!
My name is Rob; I'm Kindall's partner and I've recently joined The Movement Blog team to help with the blog. I'm a bit of a geek who likes dance (watching and partaking) and I enjoy taking 
GYROTONIC®

and

GYROKINESIS®

classes in London as well as cooking and travelling as much as I can.
I've spent the last 11 years working in data analytics so will be blogging insights about dance, fitness, gyrotonic and well being. As you may know, Kindall studied Dance Science at Trinity Laban Conservatorie in London. The application of scientific methods to help with injury prevention and performance optimisation has led me to become fascinated by the potential for data to change the way we look at dance and fitness much in the same way that sports science has changed elite performance.
I'm really keen to connect to with the dance community and explore topics which are important to movers all around the world. As such if you have any thoughts or suggestions on areas you'd like us to cover or if you would like to collaborate then you can contact me on rob@themovementblog.co.uk.
The GYROTONIC® Method is a global phenomenon 
One of the first things I did upon joining The Movement Blog officially was to take a look in the Google Analytics account which monitors traffic on the site. To my amazement I saw that since Kindall started the blog, she's had visitors from 98 different countries. That's exactly 50% of the world's countries!
I exported some geographic data in to Tableau Public where I was able to produce some data visualisations which tell us about the global audience of The Movement Blog.
Using the Tableau Public explorer at the bottom of the post you can interact with the analysis I performed and let me know what you think in the comment section below.
Where in the world do people visit The Movement Blog from?
Looking at the map view you really get a sense of how far and wide the blog reaches. For me it shows that The Gyrotonic Method and Dance in general are a truly global phenomenon. We're active in every continent apart from Antarctica and get visits from new countries all the time. You may notice that that UK and US are greyed out on the viz. I've done this because that is where lion's share (75%+) which you'd expect from US citizen blogging from London ☺️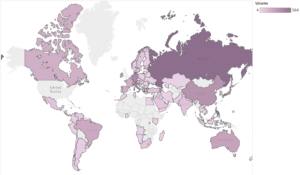 Top countries that visit The Movement Blog
By filtering results to countries who have had 100+ visits since the blog started we can get a view on where Kindall's posts are most popular. After again excluding the UK and US we can see Russia tops the pile followed by Italy, Germany then China. This is unsurprising given all of these countries have a proud tradition of dance as well as excellent schools and dance companies.
Which continents do people visit from
Without the US & UK data included Europe clearly leads the way from a continental perspective. Asia is a clear second place with strong showings from Japan (where the blog has been translated) and Hong Kong where Kindall tells me there is a big Gyrotonic scene.
Top cities which read The Movement Blog
Breaking the data down further to look at the top cities (excluding London) we can see a strong showing from Russia and the US with 4 of the top 7 cities being based there. Dublin leads the way in Europe with Italy, Greece, Spain, Portugal and France all being represented.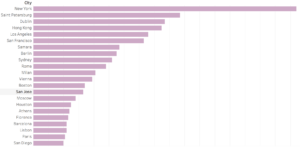 What next?
We have a saying in the analytics industry which states that data without action is useless! So over the coming months we'd like to expand the focus of The Movement Blog to discuss the Gyrotonic Method and dance in the locations mentioned above. If you're practicing Gyrotonic or Gyrokinesis in any of the countries or cities in this post and would like to talk to us about your experiences then please get in touch.