Happy Birthday to The Movement Blog 🎈
Our blog baby is officially 2 years old! In the beginning of April in 2015, I wrote my first post on what this blog would be about and some basic points on the
GYROTONIC®

Method. Come April 15th, The Movement Blog received over 4,000 + visits in one day after my post called, '5 Reasons Dancers Should Take the

GYROTONIC®

Method.'
2 years later, we are taking the blog around the world. Here's what we're up to now.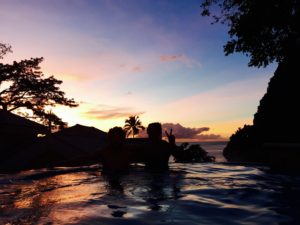 First of all, thank you EVERYONE for your interest and increasing The Movement Blog's popularity day by day, country by country. This is why we've said, 'The Movement Blog is Officially Global'! I'm ecstatic about the various topics we will write about and what we will see, record, and research over the months.
Secondly, I also want to thank you those who has shared and referred The Movement Blog to someone else or through their blog/website, especially the Dance and Gyrotonic community. It is truly my passion to continue to give back and create a platform for both the up-and-coming and the seasoned professional.
What's next? Well, my fiancé, Rob, and I will be travelling for the next 6 months in Southeast Asia, Africa, the States, Europe, and South America. Our intentions are to draw inspiration from the places we visit and relate to our favorite topics: health, fitness, wellbeing, the Gyrotonic method, the Gyrokinesis method, dance, and data.
The
green dots

are the places we've already visited in 2017 and the

blue dots

are the places in our itinerary for the rest of the year. We just left Hong Kong and are currently travelling in Vietnam from the South (Ho Chi Minh) all the way to the North (Sapa). And let me tell you, I already feel healthier and more fit just from the lifestyle and the food alone (not to mention sweating everyday in smoldering hot weather).
That's it for now! Feel free to email us with any questions, comments, or even just to say 'Hello'. Looking forward to writing about our journey and the people, places, and activities we encounter.
Big hugs,
Kindall & Rob
The Movement Blog(gers)